FOAM CLEANING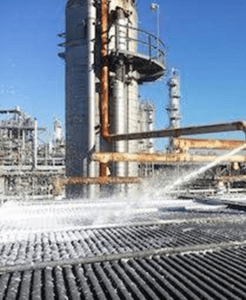 Want to drive productivity and improve your bottom line? Ensure your facility is clean and functioning correctly – one way to do so is with foam cleaning. Foam is environmentally-friendly and biodegradable, and is a fantastic way to clean confined spaces that are too small for human entry. Foam formulas are customized, and developed to specifically meet your needs​ – plus Groome offers free testing analysis. Foam is a low-pressure procedure, is compatible with all materials, and is non-corrosive and rinses with standard fire water​.
APPLICATIONS
Fin tubes / boiler tubes
ACC & other cooling condenser equipment
Fin fans
General clean-up
THE BENEFITS
Removal of corrosion & rust
Removal of ammonia bi-sulfate build-up
Increased heat exchange rate
Decreased back pressure
Increased megawatts
Lowered operating costs
Full interior bundle cleaning
Cleans in limited access areas

Foam is an excellent choice for grease, hydrocarbons, and wax, and debris found most often on external tubes. It also works exceedingly well to remove scale and rust, found most often on internal tubes. This method is also a catchall for many general dirt/debris applications​.